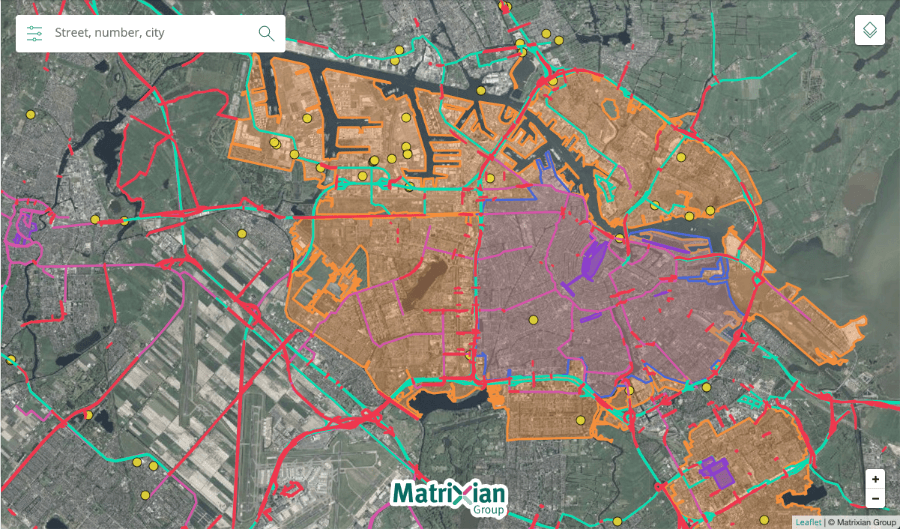 Why the Mobility Map?
Urbanization ensures that traffic flows are becoming increasingly dense. As a result, roads become busier, more traffic jams arise, road safety deteriorates and CO2 emissions increase. It is therefore important that governments and road managers secure and control mobility. The Mobility Map is an interactive map that helps with this. By visualizing large amounts of mobility data in a map, efficient traffic routes become transparent, route plans can be easily drawn up and traffic immediately becomes safer and more sustainable.
Together we can make our traffic safe
In addition to the enormous amount of mobility data from open sources, the Mobility Map also provides real-time traffic information. Collaboration is key to this. Because road managers provide us with input about accidents, blockages and other matters on the road, we can keep the Mobility Map up-to-date. This in turn helps road managers to safeguard road safety. Road managers can easily share traffic information with us by registering on our Matrixian Platform.
Benefits
Insight into efficient traffic routes
Create route plans easily
Safe and sustainable traffic through efficient traffic flows
Contributes to a reduction in CO2 emissions
Contributes to a reduction in the number of traffic jams
Matrixian Map
Sustainable Roofs Opportunity Map
Charging Stations Opportunity Map
Are you a road manager and do you want to participate? Register for our platform.
Are you interested in the possibilities?
Do not hesitate to contact us.